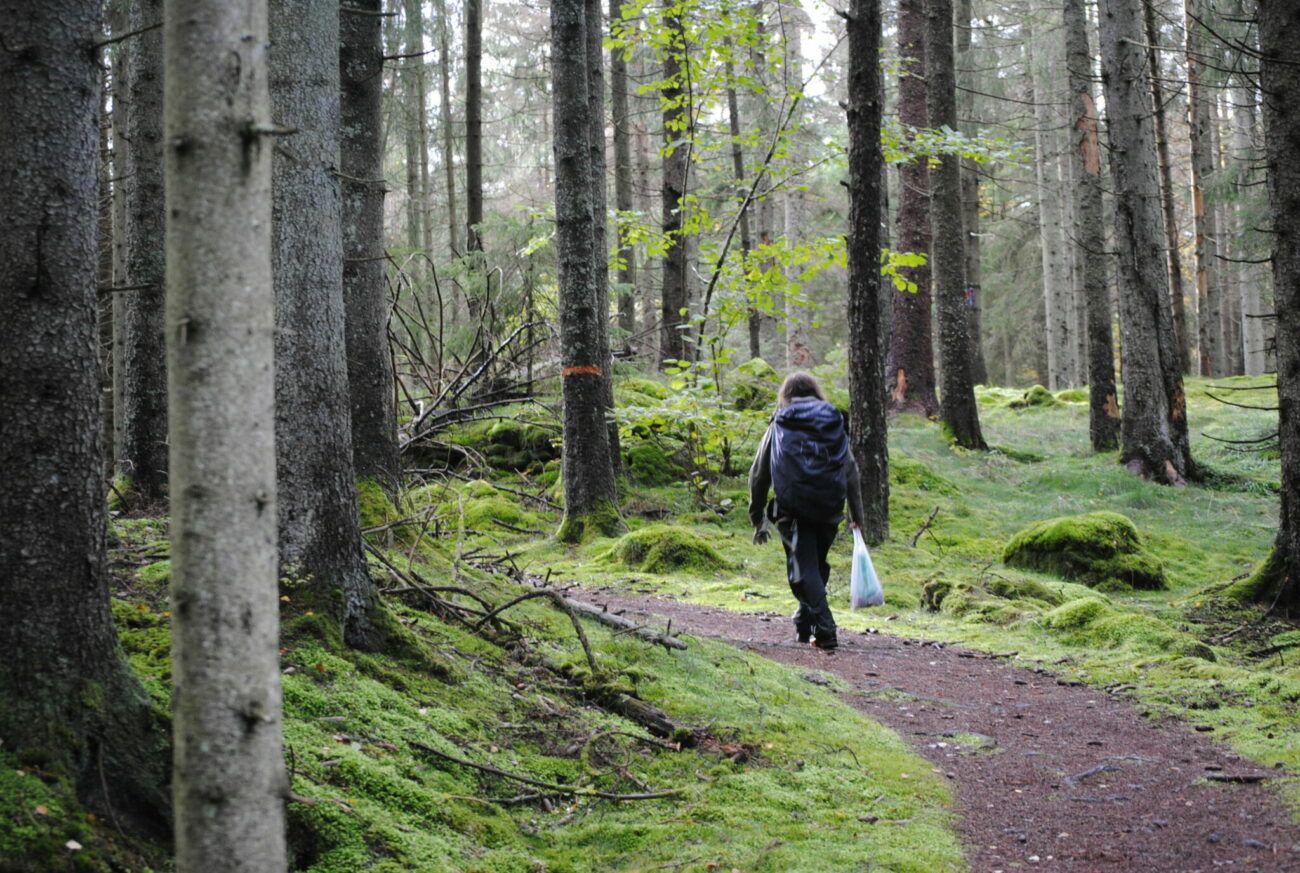 Hiking Package
Come to Anfasteröd Gårdsvik for a few days of hiking in an ever-changing natural landscape!
Here you will find trails along the ocean, around lakes, trails that crosses tightly grown pine forests and wetlands, as well as small dirt roads that meanders gently through farmland.
Both Bohusleden and Kuststigen is nearby and we also have several nice shorter hikes in a fantastic natural environment which starts here with us.
The Skarsjön Trail is another of our favourite hikes. At the height of summer one can board the Skärgårdsbåtarna (archipelagoboats) that comes to our peer for a one way ride and hike back along the coastal trail. We can assist you with finding the perfect hiking trail by providing maps, guidebooks and tips.
Our hiking package makes hiking easier for you by providing maps and hiking recommendations, meals and when you come back our floating wood-burning Sauna is ready for you. In the evening we will treat you to a 2- course dinner before you, tired but happy, fall asleep in your cosy cottage. Next day, after a lovely breakfast, you can test a new hiking trail, find a new place in which to enjoy your picknick basket and again crown the day with a 2-course dinner before creeping into bed.
In the package is included:
2 nights' accommodation in a cottage with hotel standard, i.e., the bed is made, towels are available, and room cleaned upon your departure (check-in at 15, check-out at 11)
Breakfast
Access to borrowing maps and guidebooks.
Picknick-lunch provided on your second days hike.
1 hour & 45 min at our wood-burning floating sauna on one of the days.
2-courses dinner at our seafront restaurant * 2 evenings
Price: from 2250 Swedish crowns/ person for 2 nights.
About the trails and hiking tips: Our proximity to both ocean and forest in combination with our countryside location gives us an extensive choice of trails and walking paths. In general, it can be said that the trails along the sea, such as the coastal trail (Kuststigen), is usually located along smaller dirt roads, pedestrians/bike trails and through rural residential areas while trails at Bredfjället inclusive Bohusleden goes through a more natural landscape through forest, wetlands and lakes. Our shortest and perhaps our prettier hike is only 2,5 km round trip and takes you through the forest and up a mountain located behind our facilities and rewards you with a magical view over the Havstensfjord. Specially during sunset!
Another 5 km trail that you can hike follows the ocean, cliffs and passes through a little sand beach.
You can find information about the coastal trail (Kuststigen) stage 4 and 5 in the official guidebook here in the vandringsguiden 
If you want to combine the archipelago boat with the hike, you can board the boat here at our peer and get off at Åh Stiftsgård, right beside Saxenhov.
After that you can hike stage 4 Stage 4 Saxenhov – Ljungskile at Kuststigen back to us and hike a little piece of stage 5, through Lyckorna.
You will find the summer schedule here. Along the stage 4 of the coastal trail, there are many possibilities for swimming and eating. For exemple at Ulvesunds växthus, Kärrstegens gård och Laxbutiken.
If you decide to hike south on the Coastal trail stage 5 , the hike will take you along the countryside to the Kolhättans ferry. From there you can catch a bus back to Ljungskile station and connection to Hummervägen which is the bus stop closest to us. (1 km)
To Bredfjället and Bohusleden there is no public transportation but there are many parking spaces along the way. If you need help with transportation to and from your hiking destination, we can arrange it through a fee. There is a particularly good hiking guidebook that can be borrowed and is based on different hiking themes with the history of the mountain and nature information. A genuinely nice whole day hike is around Skärsjön which is 8 km long. Many trails begin at Norra Fjället outdoor area which has a big parking lot, bathrooms and an old schoolhouse which now is a museum. One hiking theme is" The mountain children trail to school" that will take you to the school at south mountain.
Many of us at Anfasteröd enjoys hiking and do it often. It will be a pleasure to help you with tips about trails and hiking.
There are many great Hiking trails in west Sweden . If after being here, you want to continue hiking at other places, we can help you find the best trails and accommodations.
Welcome to hike with us!