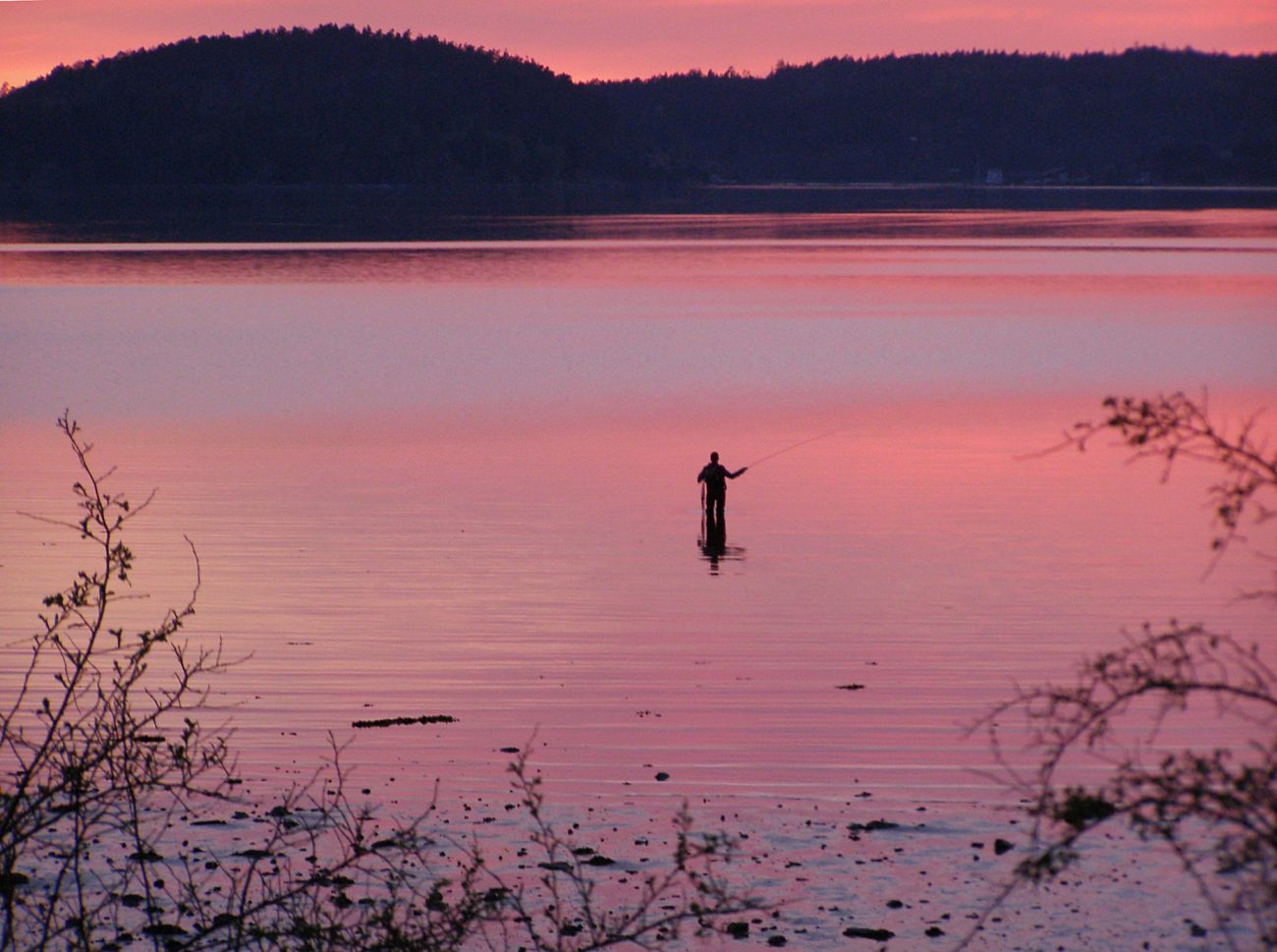 Sea trout fishing
Experience Sea Trout Fishing along the shallow shores of Ljungskile bay, while we provide ground service. You spend the days with full focus on fishing. The evening begins with a relaxing bath in our wood heated floating sauna and ends with a 2-course dinner in front of the fireplace in our restaurant. You spend the night in our cottages by the sea, while we take care of breakfast, bed linen and cleaning.
Come and fish Sea Trout at Ljungskile bay! Here we have perfect conditions for Sea Trout. The combination with protected waters from the open sea provided by the island of Orust and the beautiful nature setting makes the bay the perfect fishing place. Through our fishing package, you can focus entirely on fishing while we make all the arrangements for the ground service.
Everyone can fish! Fishing can be anything from action sports to soothing meditation and you choose which you want to do. We are ready with advice and tips regardless of your previous experience. If you lack equipment, there are simple ones you can borrow. If you feel insecure or want to learn more, we are happy to help you book a guide who can accompany you on the fishing trip. At our facility there is both the opportunity to clean and freeze you catch and at regular intervals we have our fish smoking kiln going.
The Ljungskile bay has many shallow bottoms where sea trout look for sandworms and at the deeper parts, the larger fish hunt for herring. In addition, several trout-bearing rivers flow into the bay. Fishing is exciting but it also offers opportunities for beautiful hiking and nature experiences in form of bird, wildlife, and beach finds. After today´s fishing, our wood heated floating sauna is waiting for you! Dinner is served in our ocean front restaurant.
While you stay in our comfortable and cosy cottages by the sea, with bathroom and terrace with outdoor furniture. After spending the day outdoors, it´s great to go back into your warm cottage.
In the morning you are served breakfast with freshly baked bread and when you leave, we will take care of the final cleaning.
The package includes:
2 nights accommodation in a cottage with hotel standard, ie. the bed is already made, towels are available and we take care of the final cleaning when you leave. (Check-in at 15:00. Check out at 11:00.)
Breakfast with freshly baked bread.
Fishing charts and simple fishing gear available to be borrowed.
1h 45 min sauna on one of the evenings.
2-courses dinner in our ocean front restaurant on both evenings.
Additional:
Outboard motorboat: If you prefer to fish from a boat or want to visit one of the islands in the bay, you can rent an outboard motorboat from us.
Fishing Guide: It is possible to book a guide for a fishing introduction in Ljungskile Bay as well as for a more advanced fishing trip.
Lunch packages are available for purchase if desired.